In the early 1960s, Scientists drove their cycles to deliver the parts of launching vehicles. Now the space organization turned into one of the dominant and unavoidable Government space agencies. Yes, we're talking about the Indian Space Research Organisation (ISRO). The one who placed 104 satellites in their respective orbits in a single launch vehicle. The only space agency to reach the milestone of orbiting mars in a single attempt. Also, one of the cost-effective space agencies in the world.

The Mars mission($74 million) only cost lesser than the movie Gravity($100 million) and way lesser than the Avengers Endgame($346 million), Which means you can afford a real mars mission than the reel space adventure.
Early Struggles:
India's hunger for Science research started in the 1920s from S.K. Mithra and other legends like C.V Raman, Meghnad Saha created scientific principles applicable in space. After independence, Bhaba initiated the Department of Atomic Energy (DAE). This department provides funding for space research. In 1954 State-space observatory was established in Uttar Pradesh. Rangpur space observatory was created in 1957 in Hyderabad.
In 1962, Indian Prime Minister Nehru established Indian National Committee for Space Research (INCOSPAR) because of the constant pressure from Vikram Sarabhai. There were no dedicated bodies for space research, so the INCOSPAR was still funded by DAE. Thumba Equatorial Rocket Launching Station established and constantly sent sounding rockets to study the upper atmosphere and constructed launching vehicles.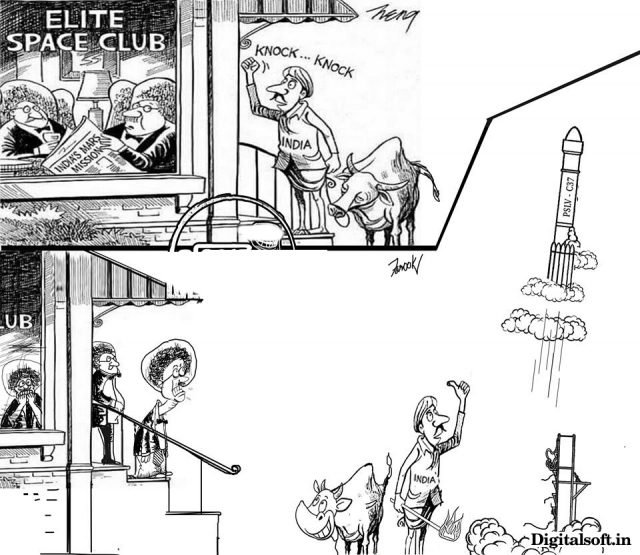 Indian Space research organisation Competitions
Indian Space Research Organisation (ISRO):
In 1972, the Indian Space Research Organisation (ISRO) came into action, INCOSPAR was suppressed under ISRO. India joined with the Soviet Union and placed their first satellite Aryabatta through the Soviet's launching vehicle. The launching vehicles developed throughout history. ISRO launched their very own launching vehicle Rohini. After many struggles and failures, ISRO is one of the unavoidable Space Organizations all over the world. ISRO launched their first Moon mission named Chandrayan. Chandrayan first discovered the water granulates in Moon. Also, ISRO is the first one to launch the spacecraft to Mars in a single attempt. It's also got the Guinness record for launching 104 satellites in a single launching vehicle.
Future Plans:
ISRO planned to investigate the nature of the Sun by sending their satellite named Aditya. This will launch after the third quarter of the upcoming year. Also, ISRO planning for sending humans to space. The man manned mission starts its mission scheduled between 2022 and2023.